About Sham Conversions
Update September 27th 2013

Sham Conversion Threat is Over!

Governor Signs SB510. Gives Residents Say Over Forced Conversions!

(5)The results of the survey shall be submitted to the local agency upon the filing of the tentative or parcel map, to be considered in the agency's decision as to whether to approve, conditionally approve, or disapprove the map, and the agency may disapprove the map if it finds that the results of the survey have

not demonstrated the support of at least a majority of the park's homeowners

. Since informed residents never support conversions this will effectively kill the forced conversion movement by greedy and heartless park owners.

Read Bill Here: http://www.leginfo.ca.gov/pub/13-14/bill/sen/sb_0501-0550/sb_510_bill_20130926_chaptered.htm

UPDATE 11-28-2012

WE WON AGAIN! AND AGAIN!

Supreme Court Denies Park Owners Appeal! Upholds The 6th District Appellate Court Ruling In Goldstone Trust vs. Santa Cruz County

Conversions are OVER! Inform your neighbors and your local government that the California Supreme Court agrees they can deny a conversion permit based upon the results from the resident survey of support. This means taking control of the survey process is paramount to defeating a forced conversion. Learn How Here!

Supreme Court Upholds Appellate Court Ruling In Pacific Palisades Bowl Mobile Estates vs. City of Los Angeles

California Supreme Court agrees that the requirements of the California Coastal Act of 1976  and the Mello Act  apply to a proposed conversion, within California's coastal zone, of a mobilehome park from tenant occupancy to resident ownership. This is yet another massive blow to the park owners and their lawyers.

Supreme Court Opinion:[PDF] [DOC]

Previous Updates

The 6th District Appellate Court Upholds The Right of City and Counties to Use The Results From the Resident Survey of Support to Deny a Conversion Application!

This means if your are opposed to your park converting, that you must vote NO on your resident survey of support so your local governing body can consider those results in their decision. This is the only legal tool available to residents to stop a conversion. Don't count on your local governing body to know this information. Send them this information. This is a published decision by the 6th District Court, so unless it becomes unpublished it's the final word on the subject. We assume that the owner of Alimur Park will appeal the decision to the Supreme Court.

Please read this Daily Breeze Article

A Letter from Mobilehome Attorney Will Constantine About the Carson Harbor Village Case

As I predicted, in my last GSMOL Californian article on "forced conversions," that the court would so do, the Second District Court of Appeal has now ruled that the City of Carson can turn down the Carson Harbor Village conversion based on the results of the resident support survey if the survey results help the City to conclude that the park owner is pursuing the conversion to escape rent control rather than offering a plan that will result in "a change in the estate interest of a significant percentage of the mobilehome lots from tenancy to ownership."

Although this standard is somewhat "messy" because it focuses on the intent of the park owner, the City of Carson believes it can be successfully utilized.  In that regard, I believe that if a park's residents present evidence to a city that shows that they voted against a proposed conversion because their park owner failed to provide them with any guarantees that the subdivided lots will be affordable to "a significant percentage" of them, this new standard can be met.  Although this is an unpublished decision that does not provide statewide precedent, it does provide a needed victory to the City of Carson and hope to mobilehome owners throughout California.

More good news is that the City of Palm Springs will be filing a Petition for Review with the Supreme Court today to overturn the, now conflicting, decision of the Fourth District Court of Appeal (also an unpublished decision) that stated that the City of Palm Springs could not reject the conversion of Palm Springs View Estates Mobilehome Park based on the results of the its resident support survey.  Part of Palm Springs' argument to the Supreme Court will be that they should take up the case because that decision is now contradicted by the new Second District Court Of Appeal's Carson Harbor Village decision and because there are no published decisions to guide cities that must decide upon conversions that are opposed by a mobilehome park's residents.

William J. Constantine, Attorney

Previous Updates

On January 26th 2010, Santa Cruz County Board of Supervisors Unanimously Denies Alimur Park Conversion Application . Appeals to Follow.

Owner of El Dorado Mobile Home Park Seeks Bailout
Owner of "Successfully Converted" El Dorado Mobile Home Park in Palm Spring wants the city to buy the remaining 147 lots (60 if theme completely vacant and abandoned) for a unjustifiably high price. Just seven years after suing the Palm Springs over their denial of the conversion, El Dorado owner want to unload the rest of his lots. What happened to all the "easy" and "competitive" financing they promised? What happened to the promise that a converted park becomes highly desirable and people will flock to buy into the park? Why won't anyone buy these vacant lots? After claiming that the City of Palm Springs cost him millions of dollars by delaying the conversion, and then suing, he now wants the same city to buy the lots he can't seem to get rid of. What nerve! Read the Summary Here and Read The Official Offer to The City of Palm Springs


Letter from Will Constantine About The Santa Cruz and Capitola Decisions

I never expected, just hoped, that the Supreme Court would agree to hear the Sequoia case since they only select 100 out of 5,000 cases to hear each year and the current Supreme Court hardly ever agrees to de-publish a case. On behalf of GSMOL and SCMHOA I, put a substantial effort into the Sequoia petition to the Supreme Court because the issue is so important that we had to have many irons in the fire since we knew that several of them would probably not work (i.e., AB 566 being vetoed and the Supreme Court not taking many cases).

However, all is not lost because the only issue that Sequoia establishes binding precedent on is that Government Code section 66427.5 preempts local ordinances including provisions of local ordinances that set out guidelines for applying the results of the required resident support survey to a local jurisdiction's duty to approve or disapprove of a conversion application [see subsection 66427.5(d) and (e)]. However, Sequoia is not binding on the issue of whether or not a local jurisdiction can turn a conversion down based on the results of a resident support survey since they were not asked to decide that issue.  In that regard, the discussion of the purpose of the resident support survey that is contained in Sequoi is inconclusive and it is also not binding as it is considered "dicta" since the court was not asked to decide that issue.

On December 30th Santa Cruz  County Superior Court Judge Paul Burdick applied Sequoia to the conversion of Alimur Mobilehome Park and ruled that as long as a local jurisdiction applies subsection 66427.5(d) and (e) directly, rather than applying their own ordinance that attempts to implement subsection 66427.5(d), that Santa Cruz County was permitted to use the results of the resident support survey in making their decision to approve or disapprove of the conversion application.   The problem with Sonoma County's Ordinance is that it went too far in setting up their own standards for determining what is a "bona fide resident conversion."  Also, both Sonoma County and the City of Carson have been focusing on their ordinances and local control too much. What Santa Cruz County did was to comply with Sequoia by repealing their ordinance and setting a new hearing on the conversion to apply the statute directly. On December 30th, the judge ruled that they could do this. I have always advocated this position since that was our intent when we drafted AB 930.  Now, even applying Sequoia, the Superior Court in Santa Cruz County agrees.

Additionally, two days after the Santa Cruz County Superior Court decision, the same issue went before the Capitola Planning Commission deciding on the conversion application of Surf and Sand Mobilehome Park and the Commission, after hearing both sides arguments on this issue and receiving advice of the city attorney, came to the same conclusion and rejected Surf and Sand's conversion application based on the results of its resident support survey by applying subsection 66427.5(d) rather than their "preempted" ordinance.

I agree with Sonoma County and the City of Carson that section 66427.5 does not preempt their ordinances.  I also agree with them that the Sequoia appellate decision is a poorly written decision that contradicts Supreme Court precedent on preemption and that it should be overturned. However, since the Court of Appeal disagreed with them, and the Supreme Court is not willing not to take the case, what they, and all other localities, should now do is give up on their "local control" arguments and follow Santa Cruz County's winning strategy by repealing their ordinances, repealing any decisions that are based on their ordinances and then re-setting those conversions for new hearings applying the provisions of subsection 66427.5(d) directly.

Also, the fact that the Supreme Court refused to hear the Sonoma County's petition does not mean that they agree with the Sequoia decision.  Under California court rules, the Supreme Court refusing to take a case is not the same as them upholding it and the park owner attorneys are not allowed to cite it that way.

William J. Constantine, Attorney

Legislation Alert:

AB 566 UPDATE (October 12th 2009): AB 566 VETOED BY GOVERNOR. This demonstrated without a doubt that we need new (ie: Democrat) leadership. The Republicans refuse to take responsible measures to lift this state out of debt and almost unilaterally attempt to block any attempt to protect Mobilehome owners from predatory park owners. If you live in a mobilehome park and are still voting Republican you need to take a hard look at who your friends are in Sacramento.

Tell the Governor to fuck off at:

Honorable Arnold Schwarzenegger
Governor, State of California
Sacramento, CA
95814

Go here see latest updates on AB 566. Use the "subscribe button" on the bottom so you can receive legislative updates about this bill directly from Sacramento.

Sham Conversions in The News: Good Times Weekly in Santa Cruz does a big write up on mobilehome conversions and the now defeated Prop 98. Overall, pretty accurate and it's always good to get some press for our side. The Santa Cruz Sentinel does a nice story on Alimur Park's conversion fight. Plus Santa Cruz County Board of Supervisors reject permit to convert Alimur Park!
In 2007 thousands of residents in mobile home parks were blind sided by Richard Close and his minions at Gilchrist & Rutter with park owner initiated condo conversions. Under these park owner conversions a mobile home park is subdivided into individual lots by exploiting California Government Code 66427.5. Residents are then given a "choice" to buy the land under the home at a price set by the owner or continue renting but without the benefit of rent control. Those who cannot afford to buy will see their rent increase by 20% of the difference between the current rate and the appraised fair market value, per year for the first four years. After four years the owner can raise rents to any level they desire. Those who qualify as low income will be protected from these increases by state rent control although they will still lose most of their home's equity in the conversion. These park owner initiated mobile home conversions are being forced upon the residents of mobile home parks. Anyone who resists are hit with multi million dollar lawsuits (city and counties who enact ordinances or deny conversion applications) and harassed and threatened (residents of mobile home parks). However, the tables are turning, and it's time to get informed, get organized, and fight back. READ THIS FIRST: If you've been sent a letter of intent to convert by the owner of your mobile home park START HERE
How "In Space" Value Works and
Why Mobile Home Park Conversions Hurt Your Equity

When you purchase a mobile home in a rental park, you pay one price that includes both the home itself and the right to use of the land on which it sits. This is referred to as the "in space" value.
Location of park, condition of park, and strength of local rent control ordinances will increase or decrease the "in space" value of the home. A home in an "A" rated park will cost more to purchase than one in a "B" rated park. A home with low space rent will cost more to purchase than one with high space rent. The final cost is determined by a combination of local market forces such as availability of financing, income levels, cost of living, the cost of comparable mobile homes and the price of real estate.
So when someone purchases a mobile home they are purchasing the total value of homeownership. Not just the home itself.

When a park is converted, the lot and the home are separated. This wipes out the "in space" value and transfers the majority of the equity to the owner of the park. What the home owner originally paid to purchase the coach is no longer relevant.
A potential buyer will pay one price for the land and purchase it directly from the owner of the mobile home park and pay one price for the home itself and purchase it directly from the owner of the home.
These are two separate purchases involving two separate forms of financing. The financing options to buy the lot will be better than those available to purchase the home.
Potential buyers will compare the total cost of homeownership in a converted park to those in other parks where you rent, not to Resident Owned Parks. This is because a converted park shares little of the actual and psychological benefits that are found in a true Resident Owned Park (ROP)
Download a Print Quality PDF of this "In Space Value" Document
Why a Converted Mobile Home Park Is NOT A Resident Owned Park
When residents get together to buy their park they permanently lock in the "in space" values of their homes. By purchasing their lot, or more often a share in the park, they no longer have to worry about losing rent control. The homeowners association controls the park directly and everyone has an equal say in decisions involving rules, capital improvements and repairs. Lenders also like the situation as they no longer have to worry that the equity in the homes in which they make loans for will disappear if rent control is abolished. The actual and psychological benefits of a true Resident Owned Park dramatically increase the value of ALL the homes in the park.
When you buy a lot in a converted park you are NOT purchasing a lot in a Resident Owned Park. The owner still controls the park until at least 51% of the lots are sold. Instead of the stability of a resident owned park where everyone has equal stake in the outcome, a converted park is a hodgepodge of renters, owners and speculators. Instead of "all for one", it's "every man for himself".
Those who can afford to buy their lots will enjoy the stability of home ownership, although control of the park itself will still be in the hands of the park owner.
Those that can not afford to buy their lots will continue to rent. Those that meet the requirements to be considered low income will be protected by state rent control laws.
Those that don't will have their rent increased by 20% of the difference between the current rate and the appraised fair market value, per year for the first four years, at which point the owner can raise the rent to any level they want.
Those that are low income will be protected from the new rent increases but because most of their equity will be wiped out in the conversion they will have little choice but to stay there for the rest of their lives. Those renters that sell their homes will walk away with only a fraction of their investment. In some cases they may still owe tens of thousands of dollars on their mortgage with no hope of paying it off. Some of the homes will be scooped up by speculators, or even the park owner, for pennies on the dollar. Some will be abandoned by their owners who are unable to sell them or afford the ever increasing rents. The end result is a broken community with conflicting interests.
Does this sound like a Resident Owned Park? Does this sound like a community that you would want to invest in?
Download a Print Quality PDF of this "NOT an ROP" Document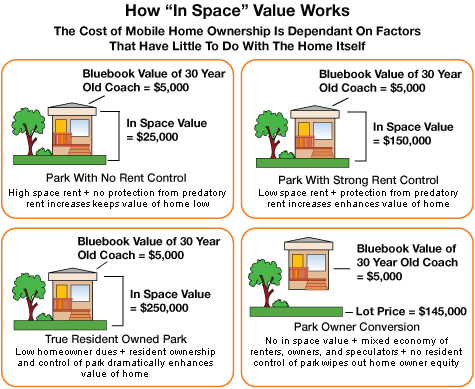 Download a Print Quality PDF of this "In Space Value" Chart

Complete Historical Overview: Conversions of Mobile Home Parks to Subdivisions or Condominiums
California State Senate Hearing on Mobile and Manufactured Home Conversions 2/28/07
Download PDF | Watch Video of Hearing

Synopsis of Issue: Within the last few years, a growing number of mobilehome park owners have been utilizing a special provision of the state's Subdivision Map Act to convert their parks to so-called resident owned condominiums or subdivisions, which thereby exempts the parks from local mobilehome rent control. Condominium interests in mobilehome park spaces must be offered to renting homeowners, and low-income homeowners who cannot afford to buy can continue to rent their spaces under the statute which limits annual rent increases, including "pre-conversion" pass-through fees, to the Consumer Price Index (CPI). However, non-purchasing residents who are not low income no longer have rent control protection upon the conversion and may have their rents increased to higher so-called "market levels" over four years.
Park owners argue this is a property rights issue and that "park condo conversion" – as it is known in the vernacular – is one of the few methods by which they can recapture the market value of their parks in rent control jurisdictions, as well as bring rents for non-buying non-low income residents, who they say are usually able to pay a greater share of their rental housing costs, up to "market."
Residents claim the state law in question was not originally intended to be used by park owners to convert parks to resident ownership and is now being adapted to allow parks to circumvent local rent control, gentrify affordable housing and economically evict low-moderate income homeowners, many of whom cannot afford the asking prices for their spaces or "condo" interests.
This is fast becoming a major issue in the housing "arena" in many areas of the state and involves the interplay of a number of different laws or regulations, both state and local.
Mobilehome Parks: In California, there are 4,822 mobilehome parks and manufactured housing communities listed on the California Department of Housing and Community Development's Mobilehome & RV Park website, not including parks owned by public entities. The Select Committee conservatively estimates there are about 700,000 residents living in these parks. In the vast majority of parks, mobilehome residents own their homes but rent the spaces on which their homes are installed from the park on a month-to-month or long-term lease arrangement. Most of the 4,822 listed parks are owned by private investor groups, operators or owners, but an estimated 150 parks are owned by resident organizations or by non-profit organizations.
Local Rent Control: Many mobilehome owners are long-time park residents, often seniors on low or moderate incomes. Since 1977, due to complaints from residents in some parks about high rent increases, and local governments' concerns about the need to preserve affordable housing in their communities to meet general plan requirements, 102 local agencies (mostly cities), according to figures compiled by the Select Committee from various sources, have enacted some form of mobilehome park rent control in California. Provisions of these ordinances vary by jurisdiction but all allow some form of annual rent increase, usually based on the CPI or a percentage of the CPI for the region. A slight majority of rent control jurisdictions have a vacancy decontrol feature, meaning that upon a vacancy or change of tenancy for a space in a park, the space is 'decontrolled' from the rent ordinance. The others have so-called vacancy control, which does not permit the decontrol of a space from the ordinance upon a change in tenancy but may, under some ordinances, allow an additional one-time rental adjustment, such as up to a 10% increase of the current rent. Park residents may feel rent control is the only protection they have from economic eviction, while park owners believe it inhibits the profitability of their investment and resale of their parks. There have been a number of legislative and legal battles over the years. State legislation passed in 1985 (SB 1352 [Leroy Greene]) provides that parks may offer leases to residents with a term of more than one year that are exempt from local rent control. Since SB 1352, there have been several unsuccessful legislative attempts by resident groups to prevent parks from requiring that new residents sign such exempt leases as a condition of tenancy. In 1996 park owners campaigned to pass Proposition 199, a statewide ballot initiative designed to phase out mobilehome park rent control, but the measure was rejected by the voters. Some park owners have successfully sued local governments over their rent ordinances, but in other cases the local governments have prevailed or the issue has been settled. As park rents climb in non-rent control jurisdictions, the rent control controversy continues.
Resident Park Ownership: In the mid-1980's, as an alternative to problems of increasing park rents for low and moderate income residents or the closure of some parks and displacement of residents, the concept of resident owned parks (ROP), where residents form a homeowners association to purchase a park for sale and convert it to a mobilehome subdivision, condominium, stock co-operative or non-profit ownership, gained in popularity. Between 1984 and 1996, the Legislature, responding to this issue, enacted a number of laws to encourage resident ownership, including a property tax freeze on the initial sale assessed value of parks converted and sold to resident owners, and the Mobilehome Park Resident Ownership Program (MPROP) (SB 2240 [Seymour] 1984), a limited loan program with funding to assist homeowner associations and low-income residents in purchasing their parks. According to figures from HCD, MPROP, with about $3 million in annual funding from a surtax on mobilehome owner registration fees and loan paybacks, has assisted homeowner associations and low-income residents in 75 park conversions since 1985. The Legislature has also enacted various changes to the Subdivision Map Act, exempting or simplifying the ROP conversion process.
Subdivided Lands Act: Due to concerns about the fraudulent marketing of subdivided lands, the Legislature over the years has enacted various provisions of the Subdivided Lands Act, administered by the Department of Real Estate (DRE), to assure that offers to buyers include what was agreed to at the time of purchase. (Business & Professions Code Section 11000 et seq.) The Act applies to most subdivisions and common interest developments, including condominium conversions. These provisions do not address land use, rent or relocation issues, but rather provide a DRE approved public report containing disclosures to prospective buyers of covenants, conditions and restrictions which govern the use of property, assessments and reserves necessary for maintaining homeowners' associations and common areas, and other related disclosures. After the last remaining subdivided interest is sold, DRE's jurisdiction ceases.
Subdivision Map Act: Like zoning and use permits, the subdivision map process is a local land use planning tool. Although the original state Subdivision Map Act dates from 1907, the Act was significantly strengthened by the Legislature in the 1970's to include, among others, lot-splits and condominium conversions. In 1980, the Legislature enacted a provision specifically giving local governments the power to regulate the subdivision of a mobilehome park to another use, including requirements that the displacement of mobilehome residents be mitigated (Government Code Section 66427.4) (SB 1722 [Craven] ). Therefore, before individual lots in a park could be sold and converted to a resident-owned subdivision or condominium, the Subdivision Map Act required a subdivision map to be filed and approved by the local jurisdiction, which could impose its various own conditions on the map to mitigate economic displacement of non-purchasing residents, such as relocation assistance, assurance that a majority of residents supported the conversion, etc. But park conversion consultants contended that by imposing "unreasonable" conditions on the subdivision map, some local governments were actually hampering ROP conversions by making it more expensive for residents to buy and operate the park. Hence, the Legislature enacted Government Code Section 66428.1 in 1991, exempting, with certain exceptions, a park conversion where two-thirds of the mobilehome owners in a park support it from parcel, tentative or final map requirements (AB 1863 [Hauser]). Due to continuing concerns from some resident groups and conversion consultants, in 1995 the Legislature further diluted the power of local governments to regulate the conversion of parks to resident-owned condominiums or subdivisions with the enactment of Government Code Section 66427.5 (SB 310 [Craven]). This provision did not have a homeowner support requirement but established a minimum state standard for mitigation of the economic displacement of non-purchasing residents, as previously described. (See Government Code Section 66427.5, attached). By establishing a state rent formula for low-income residents, Section 66427.5 thereby pre-empted a local rent ordinance from regulating rents in a converted ROP park. This is the provision, now being used by park-owner driven resident conversions, which is the center of debate on the "park condo" issue.
El Dorado Case: In 1993, the park owner of the El Dorado Mobile Country Club, a 377-space mobilehome park in Palm Springs, filed a tentative subdivision map with the city as a first step in converting his park to resident ownership. This was the first known case of a park converted to resident ownership by a park owner, as contrasted with most ROP conversions, which had been initiated by resident homeowner associations. The City of Palm Springs, concerned about allegations that the conversion was a "sham" driven by a park owner whose motive, according to some park residents at the time, was to sell a few lots in the park to circumvent the city's rent control and other local regulations, imposed several conditions on the map. These included, among others, that the map would not be effective (meaning the park would not be exempt from city rent control) until 50%-plus-1 of the lots were sold to residents. The El Dorado park owner sued the city, claiming the effective date of conversion was when one lot was sold and that the city had exceeded its authority under the state's Subdivision Map Act to impose more stringent requirements for a park conversion, as it might do for other kinds of conversions, such as conversion of an apartment to a condominium. Although the city won the first round, the park appealed, and the 4th District Court of Appeal reversed (El Dorado Palm Springs, Ltd., v. City of Palm Springs, 2001). The appellate court ruled that the city was limited by the state's Subdivision Map Act and opined that the question of whether there should be more protections in the statute to prevent "sham" resident conversions by park owners was a legislative, not legal, issue.
The Keeley Bill: As a result, AB 930 (Keeley, 2002) was introduced to permit local governments to impose additional requirements on the conversion of a mobilehome park to a ROP subdivision or condominium. The bill was heavily lobbied and debated, with mobilehome owners, housing advocates and local governments supporting the bill and park owners opposing it. As finally passed and signed by the Governor, the Keeley bill allowed local governments to require park owners as part of the map act process to provide the city with "a survey of support" indicating resident support for a proposed ROP conversion and included un-codified language stating the bill was intended to assure such conversions were "bona fide" in accordance with the El Dorado case. Because the language was not clear, there are differing views on whether a city can deny a "park condo conversion" if the survey showed little or no resident support for the conversion. (See un-codified language as an addendum to Section 66427.5, below)
Epilogue: Within the last year and a half, a number of mobilehome parks have either notified their residents of the park's intent to convert or have actually applied to local governments for a map to convert their rental parks to a park condominium under Government Code Section 66427.5. The Select Committee has been able to document 12 such parks to date statewide, although a newspaper article has quoted Sheila Dey, Executive Director of the Western Manufactured Housing Communities Association (WMA), a park owner industry association, as using the figure of 30 parks (WMA members) that are planning such conversions (Daily Breeze, [Torrance, CA], Sunday, January 28, 2007 article by Gene Maddus). To date, park-owner initiated conversions appear to be taking place in Buellton, Carson, Ojai, Vallejo, Sonoma County, Santa Rosa, Healdsburg, Santa Cruz County, Rohnert Park, and San Luis Obispo County. Some local governments have placed temporary moratoriums on these conversions, although at least one jurisdiction is reportedly being sued by a park owner over the moratorium.
Attachment I
Section 66427.5 of the Government Code:
66427.5. At the time of filing a tentative or parcel map for a subdivision to be created from the conversion of a rental mobilehome park to resident ownership, the subdivider shall avoid the economic displacement of all nonpurchasing residents in the following manner:
(a) The subdivider shall offer each existing tenant an option to either purchase his or her condominium or subdivided unit, which is to be created by the conversion of the park to resident ownership, or to continue residency as a tenant.
(b) The subdivider shall file a report on the impact of the conversion upon residents of the mobilehome park to be converted to resident owned subdivided interest.
(c) The subdivider shall make a copy of the report available to each resident of the mobilehome park at least 15 days prior to the hearing on the map by the advisory agency or, if there is no advisory agency, by the legislative body.
(d) (1) The subdivider shall obtain a survey of support of residents of the mobilehome park for the proposed conversion.
(2) The survey of support shall be conducted in accordance with an agreement between the subdivider and a resident homeowners' association, if any, that is independent of the subdivider or mobilehome park owner.
(3) The survey shall be obtained pursuant to a written ballot.
(4) The survey shall be conducted so that each occupied mobilehome space has one vote.
(5)The results of the survey shall be submitted to the local agency upon filing of the tentative or parcel map, to be considered as part of the subdivision map hearing prescribed by subdivision (e).
(e) The subdivider shall be subject to a hearing by a legislative body or advisory agency, which is authorized by local ordinance to approve, conditionally approve, or disapprove the map. The scope of the hearing shall be limited to the issue of compliance with this section.
(f) The subdivider shall be required to avoid the economic displacement of all nonpurchasing residents in accordance with the following:
(1) As to nonpurchasing residents who are not lower income households, as defined in Section 50079.5 of the Health and Safety Code, the monthly rent, including any applicable fees or charges for use of any preconversion amenities, may increase from the preconversion rent to market levels, as defined in an appraisal conducted in accordance with nationally recognized professional appraisal standards, in equal annual increases over a four-year period.
(2) As to nonpurchasing residents who are lower income households, as defined in Sec. 50079.5 of the Health and Safety Code, the monthly rent, including any applicable fees or charges for use of any preconversion amenities, may increase from the preconversion rent by an amount equal to the average monthly increase in rent in the four years immediately preceding the conversion, except that in no event shall the monthly rent be increased by an amount greater than the average monthly percentage increase in the Consumer Price Index for the most recently reported period.
AB 930 (Keeley, 2002), Un-codified Intent Language:
SEC. 2. It is the intent of the Legislature to address the conversion of a mobilehome park to resident ownership that is not a bona fide resident conversion, as described by the Court of Appeal in El Dorado Palm Springs, Ltd. v. City of Palm Springs (2002) 96 Cal.App.4th 1153.
The court in this case concluded that the subdivision map approval process specified in Section 66427.5 of the Government Code may not provide local agencies with the authority to prevent non-bona fide resident conversions. The court explained how a conversion of a mobilehome park to resident ownership could occur without the support of the residents and result in economic displacement. It is, therefore, the intent of the Legislature in enacting this act to ensure that conversions pursuant to Section 66427.5 of the Government Code are bona fide resident
conversions.
Attachment II
Some Issues for Possible Discussion relating to "Park Condo Conversion":
1) Is there a need to change the statute – Government Code Section 66427.5?
2) How can the interests of park owners in selling their parks and making a reasonable return on investment be reconciled with the need to prevent the loss of affordable housing for low and moderate income park residents?
3) When Section 66427.5 was enacted in 1995 to limit local discretion, were park owner driven conversions contemplated by the Legislature? Should the statute be clarified to apply only to resident-owned driven conversions?
4) If the Keeley language relating to the "survey of support" requirement is not clear, should the statute provide that local governments may require a certain percentage of resident support be evidenced in the survey as a condition of granting a map?
5) Does the current statute sufficiently protect mobilehome park residents, who cannot afford to purchase a condo "interest," from eventual economic eviction? Do residents who are not defined as low-income but who are below the region's median income need to be protected?
6) One of the concerns voiced about park-owner initiated conversions is how the homeowners' association is set up. Does the park owner have a controlling interest in the association until homeowners or park residents actually purchase a majority of the condo interests?
7) Doubts heard about park condo conversions also stem from the fact that parks in most cases will not disclose prices of the spaces or condo interests to residents until the process is approved by DRE. This may be due to a State Subdivided Lands Act requirements that prices cannot be provided to prospective buyers until the DRE public report is released, which is often at the end of the conversion process. Should the law be changed to allow at least disclosure of tentative prices at the front end or local map approval stage?
8) Some low-income residents in the El Dorado Park in Palm Springs have been able to obtain MPROP loans to purchase condo interests. Proponents of condo conversion contend MPROP loans may be available to assist low-income residents in future "park condo conversions." Is there enough MPROP funding to assist low-income residents in up to 30 or more parks that may convert to the condominium form of resident ownership?