Activists Kit
We're just beginning to build our Activist Kit. Below you will find the steps you must take when your park is threatened with conversion as well as some great handouts that explain how conversions hurt your equity. More to come.
What To Do When You Get a Letter of Intent To Convert
1. If you don't already have one you must form a homeowners association. If you don't, your park owners, with the help of their attorneys, will recruit a few sympathetic residents and set up a sham homeowners association to control the issue in the park.
At this point you should also get a lawyer who specializes in mobile home law to help with the following steps. Ask the lawyer about fees. Perhaps they will take you as a pro bono case. Some lawyers work through non-profits that provide free legal services to seniors or low income people.

2. You must notify your city council or board of supervisors. Tell them about the proposed conversion and that the residents are against it.
An uninformed city council or board of supervisors can be a disaster for park residents.

On November 23, 2007, the Encinitas City Council approved conversion of The Sands Mobile Home Park. Council told residents state law governing mobile home parks restricted its decision.

"We are a country of laws, and we need to follow those laws, and those laws dictate the decisions we are making tonight," Mayor James Bond said.

The council voted 4-1 to approve the conversion. Councilwoman Teresa Barth said her opposition to the measure was symbolic given the applicable state requirements. "I voted with the people on this one," she said after the meeting.

Had they been educated on the matter the Mayor may have known that placing conditions or restrictions on mobile home park conversions, or denying them if they conflict with local planning goals is actually in compliance with state law, not against it.
3. You must send a letter to the park owners and their attorney asserting your rights as a homeowners association. You can ensure that the park owners and their attorneys are required to deal with your homeowners association directly in all matters involving the conversion process.
Use this Sample Letter.
This letter was written and successfully used by the Board of the Alimur Park Homeowners Association and their attorney Terry Hancock.
4. You must negotiate the terms of the resident survey. This will not be easy as the park owners will want to write a survey that ensures a favorable outcome for their position. They will want to include demographic questions and other unrelated fluff to confuse residents. They will try to include an "undecided" option to the resident survey to capitalize on this confusion. They will tell you the survey is meaningless. They will tell you can safely vote yes on the conversion without consequences. Do not allow this! The survey is probably the most important vote you will make in your life. Always keep in mind that the survey of support is the only tool prescribed by state law that requires input from the residents before a conversion can be approved. With the support of your local government, a majority no vote on the survey can legally stop the conversion. Therefor, the survey should contain only one question; Do you support the conversion or not.
Use this Sample Resident Survey.
This survey was written and successfully used by the Board of the Alimur Park Homeowners Association and their attorney Terry Hancock to define the resident survey. It includes justifications and additional requirements. It took several rounds of negotiations and several months get an easy to understand resident survey approved by all parties.
Print Quality Flyers for Easy Distribution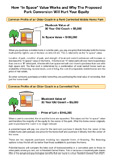 1. Download a Print Quality PDF of "How Mobile Home Park Conversions Hurt Your Equity" Document
Excerpt: When you purchase a mobile home in a rental park, you pay one price that includes both the home itself and the right to use of the land on which it sits. This is referred to as the "in space" value.
Location of park, condition of park, and strength of local rent control ordinances will increase or decrease the "in space" value of the home. A home in an "A" rated park will cost more to purchase than one in a "B" rated park. A home with low space rent will cost more to purchase than one with high space rent. The final cost is determined by a combination of local market forces such as availability of financing, income levels, cost of living, the cost of comparable mobile homes and the price of real estate…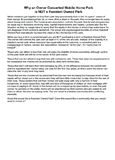 2. Download a Print Quality PDF of "NOT an ROP" Document
Excerpt: When you buy a lot in a converted park you are NOT purchasing a lot in a Resident Owned Park. The owner still controls the park until at least 51% of the lots are sold. Instead of the stability of a resident owned park where everyone has equal stake in the outcome, a converted park is a hodgepodge of renters, owners and speculators. Instead of "all for one", it's "every man for himself"…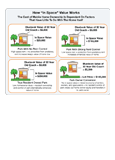 3. Download a Print Quality PDF of "Mobile Home In Space Value Comparison" Document
Excerpt: How "In Space" Value Works. The Cost of Mobile Home Ownership Is Dependant On Factors That Have Little To Do With The Home Itself …