Dec
27
Just the Facts: The Loftin Firm has experience in a broad spectrum of transactional and litigation matters in California, as well as other areas of the country. The Firm's main practice areas are in General Real Estate, Real Estate Development, Common Interest Developments, Mobilehome Park creation, conversion and closures, as well as Business Transactions, Estate Planning, Probate and Trust.
The Loftin Firm has experience representing various clients, including but not limited to, individuals, corporations and governmental agencies, in a wide range of litigation matters, from simple landlord/tenant issues to large corporate and class action suits.
The Loftin Firm has over 25 years of experience in the legal field and is one of a handful of firms that has experience in Mobilehome Park development. Our Attorneys are licensed to practice at both the trial and appellate level.
Mobilehome Parks
Over eighty (80) California Mobilehome Parks have been converted by the Loftin Firm from Rental to Resident Owned, as single family condominium manufactured housing communities, planned unit development, non-profit mutual benefit corporation ownership, non-profit public benefit corporate ownership, limited equity cooperative and stock cooperative. Additionally, The Loftin Firm has acted as a consultant to local jurisdictions such as cities and counties in California and within the state of Colorado regarding mobilehome park transactions issues.
The Loftin Firm has also been involved in numerous retail acquisitions of mobilehome parks for investment and development of new or expansions of existing mobilehome parks.
Our Opinion: Sue Loftin is clearly on the side of the park owner-investors. Apparently, in earlier times she represented park residents who were able to purchase their parks and convert them for their benefit. And, of course, this historically reflected the entire concept of MH park conversions, which was embraced by local and state government, and which formed the original basis of the government codes and the financing assistance programs. Of course, the park owners discovered this as a highly profitable way for them to eliminate rent control and with the help of the Sue Loftins and Richard Closes have been successful in modifying the codes and obtaining favorable legal interpretations in the courts.
Her firm's primary role in the El Dorodo conversion, and in many other parks, is to get the conversion application approved through the city and state mapping process on behalf of the park owners, including the HCD and DRE requirements, while simultaneously getting MPROP funding for low-income residents and other financing for non-low-income, such Cal Vet loans. (This type of financing is a lesser discussed aspect that in reality provides taxpayer funding to make owner-initiated conversions feasible and profitable.) Her legal firm often works along side Richard Close's legal firm Gilchrist & Rutter.
It is important to realize that Sue Loftin has been very effective in befriending resident populations and gaining their trust to get a majority of residents to support a conversion. Her firm did this effectively at El Dorado.
Here's how Sue Loftin has been working against the interests of moblihome park residents facing conversions.
Sue Loftin is against AB 566 (see bill analysis here)

These are the major groups against AB 566
Law Offices of Gilchrist & Rutter
The Loftin Firm, LLP
Western Manufactured Housing Communities Association
Sue Loftin is fighting for park owners to force unwanted conversions upon mobilehome park residents

Sequoia Park Associates v. County of Sonoma
Sue Loftin files amicus brief in support of Sequoia Park Associates.
Carson Harbor Village, Ltd. v. City of Carson
Sue Loftin and Richard Close are the attorneys for Carson Harbor Village owners.
The case is clear. Sue Loftin supports owner initiated moblihome park conversions AND is against any reasonable restrictions that would protect the interests of mobilehome park residents from unwanted conversions.
Star Wars Analogy: Imperial spy. Beware of her Jedi mind tricks.
Dec
9
Just the Facts: Susy Forbath is a paralegal who works closely with Richard Close while representing mobile home park owners seeking to convert their parks to resident ownership.
Star Wars Analogy: The dark side of The Force is strong with her but she has yet to fully control it's power.
Recent Public Statement of Questionable Accuracy: To justify her assertion that the owner of Alimur Park has the legal right to convert his park regardless of any city and county ordinances and in spite of nearly 100% resident survey opposition, Susy invoked the Governors veto of AB1542. "Governor Schwarzenegger made it clear that he supports the conversion process with his veto of AB1542? she claimed.
This is a clear misreading of his veto. In his veto statement Governor Schwarzenegger only commented on the rent control protections that, in his opinion, were too aggressive as they included everyone regardless of income level. He didn't mention the key component of AB1542 which gives counties and cities the right to deny a conversion application if it is not "bona fide" as defined by their local ordinances. Invoking his veto is also a non sequitur as the Governor is not a judge and will have no say in deciding the legality of city and county ordinances as they apply to current state law.
Below is the full text of his veto message:
( You can download it as PDF)
AB 1542 Veto Letter from Governor Arnold Schwarzenegger
To the Members of the California State Assembly:
I am returning Assembly Bill 1542 without my signature. I am greatly concerned about housing affordability and homeownership for all Californians. I understand the sanctity of the home and the importance of having stability in your living situation. This need for stability was eloquently expressed by the many seniors throughout California who have written to me on both sides of this bill.
I also recognize that compared to other housing issues there is a uniqueness regarding mobilehomes and all the varied manners of ownership, leasing, affordability, and opportunity. It is because of this uniqueness that laws were enacted to create statewide standards for mobilehome parks.
The intent of current state law is to provide an opportunity for home ownership to those mobilehome owners who desire to own both their home and the land it rests on. The law also offers protections for low-income individuals against unwarranted rent increases.
While the bill's intent is to preserve low-income housing, it also extends rent control in certain circumstances to mobilehome owners in much of the state no matter what their income level. It is unclear what state interest is served by the extension of rent control for those who do not have an economic disadvantage.
In addition, establishing two statewide standards for rent control seems confusing and unnecessary.
It is clear that mobilehome issues require a comprehensive approach to ensure that low income individuals and families are protected, homeownership opportunities are afforded to those who choose them, and stability of the home and property is preserved.
I urge the Legislature over the coming year to find a solution that provides true balance for all the stakeholders involved in mobilehome issues.
Sincerely,
Arnold Schwarzenegger
Dec
7
Just the Facts: Lead counsel in the successful, ground-breaking California case involving conversion of manufactured housing estate (mobile home park) from rental to condominium resident ownership. Counsel clients with respect to such conversions to increase property value and replace local rent control, as well as acquisition, financing, sales, tax-deferred sales and rent control litigation related issues.
Our Opinion: The man who started it all in 2002 by successfully converting El Dorado Park in Palm Springs against the wishes of residents and the local government. This case has created a backlash that has spread throughout California as city and county governments and mobile home park residents vow to never let it happen again.
Star Wars Analogy: Dark Lord of the Sith. Keep your shields up and your homes out of range of his Death Star.
Recent Public Statement of Questionable Accuracy: El Dorado Park in Palm Springs currently has about 45 of it's 377 spaces vacant. When asked what effect on the property values and the quality of life these abandoned lots of concrete slabs and weeds have on park residents, Richard had this very original take on the situation: "When you have empty lots it creates more open space. The houses aren't so crowded anymore. This open space increases the value of the remaining homes."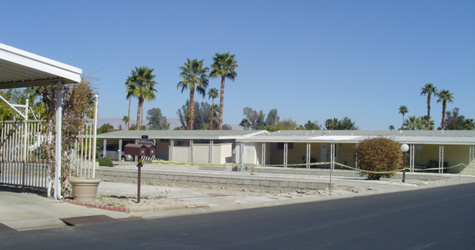 Above is a recent photo of a two lot "Green Belt" in El Dorado Park. Richard Close calls this equity enhancing "open space" although most would call it an equity draining eyesore. It wasn't clear in Richard's statement how much the yellow police crime scene tape adds to the surrounding property values or if the slump block retaining walls are also considered "open space".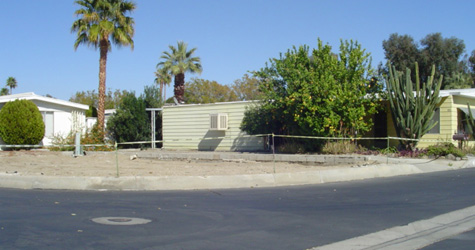 This person is very lucky to live next to so much beautiful "open space".